About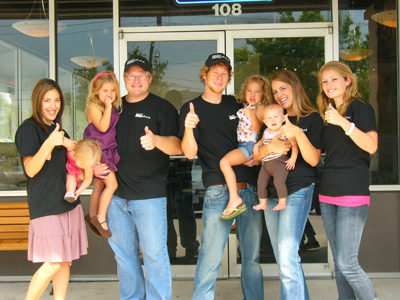 What do you get when you throw together 2 couples, 5 kids, a lover of fine wines and Italian food, a self-proclaimed French fry connoisseur, a life dream, a big visionary, and an open door? -->Main Street Grill and Café.

Conceived as an exciting, but improbable idea in the Spring of 2008, Main Street owners Kyle Sapaugh and Eric Paquin got to work, and began to turn their crazy talk into a reality. With Kyle and Eric being Friendswood residents, the vision was to promote the rich history and thriving community of their hometown, by providing their neighbors with a variety of fresh, from scratch, quality menu options at a reasonable price, and a "just down the road" location. On August 14, 2008, Main Street Grill and Cafe opened their doors to the public.

Now, 2 years into the journey, with new additions to their families, a changing community, and always new ideas for improvement - Kyle and Eric hold fast to their original vision: to provide good, fresh food and a fun, family-friendly atmosphere, all for a great price; truly a work that is for the people of Friendswood.